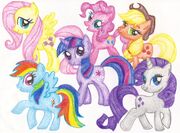 Welcome to the Theponyplace Wiki
I DO NOT CLAIM ALL OF THE ART POSTED AS MINE. 95% OF IT IS OTHER PEOPLES. A wikia to post any pictures of MLP that you desire (within the rules). made by FK(now Octavias Vinyl)
Psst....check out my new fanfic my little warrior fighting is tradgic!
To Post Fan Art just upload your picture and an administrator will catigorize it in that page soon.
[Also: to find a specific pony, search the wikia for that ponies name, and the fan art posted should come up...
AND NOW ID LIKE TO THANK EVERYONE FOR MAKING THIS POSSIBLE.... ENJOY!
A special thanx to NB.
Please take care to also read the rules.
Latest activity
Community content is available under
CC-BY-SA
unless otherwise noted.